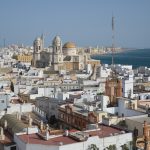 Guided tour in Cádiz
The Delegación Municipal de Turismo of Cádiz collaborates with the TEEM Conference'17 offering the guided tour "CALLES Y PLAZAS", it is a route through the most emblematic places of the Historic Center of the city like Plaza de España, Plaza de San Francisco, Plaza Mina, Plaza de San Antonio, Calle Ancha, Plaza de las Flores and Plaza de la Catedral.
This event will take place on the 18th of October at 7:00 p.m. It will last approximately 2 hours and will start from the congress venue.
If you want to participate, please register at the following link (maximum group of 50 participants):
https://docs.google.com/forms/d/e/1FAIpQLSf9Hwz1T4dw7bZNFCgeVB7DV4nmWym_DnxCCkXSwUX6OUOpQw/viewform
---
Gala dinner 
The gala dinner will be in the restaurant Isla de León located in the Hotel Playa Victoria (Cádiz): https://www.palafoxhoteles.com/es/hoteles-en-cadiz/hotel-playa-victoria/restaurante-isla-leon
This event will take place on the 19th of October at 9:00 p.m.
If you are going to attend, please register at the following link:
https://docs.google.com/forms/d/e/1FAIpQLSeNB4SZ2-054vRhYxkz6Z_RPUAobObQyOGqSPe2aVZIy5ERXA/viewform
---